5 proven steps to an online marketing success
Small business owners love online marketing as it's so accessible! Getting online is quick and easy and everyone can do it to gain instant access to the unlimited opportunity that the world wide web holds. All you need to do is set up a Facebook or Twitter profile or launch your Instagram account and you are all set to start promoting to the world. But wait! Do you really know what you are doing? Or are you just spending endless hours sending tweets that nobody reads, posting random images that say nothing about your brand and switching from one platform to another in the hope of finally stumbling upon your perfect clients SOMEWHERE... Are you getting any results from all this online marketing that you are doing? If the answer is NO, then you need to read this!
I know how it's like to spend endless hours doing marketing that nobody gives a damn about, I've done it before. But sometime ago, I have changed the way I approach my online marketing and things have changed for me. And the solution was simple, really. In this blog post I am going to tell you what I think you should be doing to successfully market your business online:

Tell your story
There are so many small businesses out there. How can you even try to compete?? I believe that the key to break through the noise and get noticed is to be unique. And what makes you unique is your story. Your WHY! Define your mission and vision and let people know WHY you are doing what you are doing. This way you will naturally attract your ideal clients. The best way to tell your brand story is through photographic branding that visually portrays how you make your products or how you serve your clients!
Find your unique voice
Figure out who you are as a brand. Many people wrongly believe that their logo is their brand – your logo is not your brand! Your logo does not define you, you define you! I truly believe that you don't even need a graphic designer to create an awesome brand! Your brand is who you are, what you are really good at, what you love, your unique character, your beliefs and your values. It's what you wear, how you communicate with your customers or how you package your products. Your brand defines your unique character that people are drown towards. Your brand is why people will buy from you rather than from your competitor. Develop a unique, distinct brand that stands for who you are and you will never have to worry about your competitors again! I am a firm believer that it is a photographer who you need to create an awesome brand, as photographs are so much more powerful than words or graphics! Photographic branding will help you create a brand that your clients will remember and talk about! Invest in a professional photoshoot, show your clients who you are and how it would be like to work with you and you will naturally attract your ideal clients.
Get an awesome looking website
Invest in an awesome online presence. Currently, every small business has a website. This wasn't the case 5 years ago. Nowadays, the competition online is huge and with an average website you no longer stand the slightest chance! Your website is your online shop window and just like you would make your physical space look amazing in order to entice and keep the customers in your shop, in digital space it is also very important to make that user experience second to none in order to get your clients want to stay on, engage and most importantly buy your services! Your competitors are only one click away! Create an experience that is engaging and inspiring and your clients will be so drawn towards you that they will forget that your competitors even exist!
Be social!
Social media is huge right now as it's free and everyone can do it. But are you doing it right? First of all, make sure that your brand looks professional, consistent and appealing across all of your online channels. Secondly, remember that social media is not a one-way channel! It's a two-way street! So spend as much time engaging with your audience as you do broadcasting! Be social, mix in the online groups, get to know people, share your expertise and you will see immediate results.
Have a long term online marketing plan. Don't just jump on every promotion opportunity that comes your way or post random content on social media. Take time to develop a goal oriented strategy with several action-oriented tactics that you can implement over time. Then, step by step go through the plan and seek out opportunities that can help you achieve those goals.

I believe that 2016 is all about visuals and that in order to be succeed at online marketing you need to develop a consistent, unique and memorable visual strategy.
Not sure where to start? I can show you the way!
If you would like some professional help from a team of digital branding experts, you can talk to us directly and we will be happy to answer any of your questions or simply have a chat.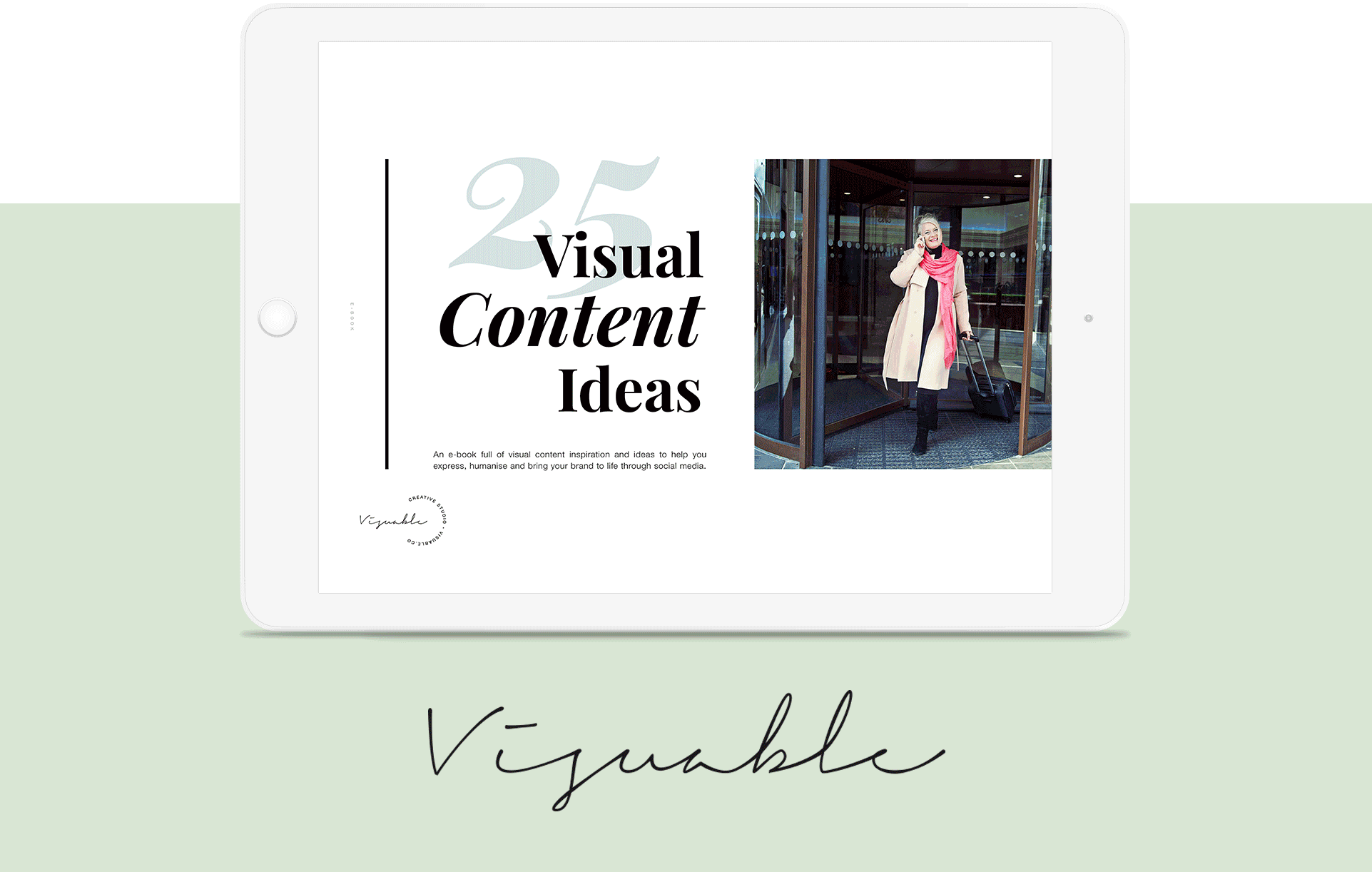 Would you like some ideas for how to bring your own brand to life visually?
Download our handy e-book with 25 ideas that will help you express who you are, humanise your brand and communicate it to your online audience